WINDOWS in GENERAL
When searching for a new home, windows are usually not a huge determining factor. As long as we can see through them, they open and close, and are reasonably presentable; little effort usually goes into research into their quality. Unfortunately, if a home was constructed with many others in a "development" context, the builder likely put similar effort into choosing them. It's the cost that usually drives those decisions. Not just the cost of the window units, but the cost of their installation as well. Window and door installations, like roofing, siding, drywall, and every other facet of new home building, are often performed by "piece workers." They are workers that are paid according to the quantity of units they install. The quality of the installation has little oversight. Since the consequences of a poor install will not be realized till long after the check clears and the warranty expires, the installation is geared toward speed rather than longevity or function.
DELRAN, NJ WINDOW PROJECT
The window replacement project in Delran, NJ featured here is such a case. While the existing windows were not visibly horrible, the homeowners could feel the winter inside their home. Since the windows were already vinyl-framed in one piece, this was not a conventional replacement window job. NLR removed the siding around each window, as well as the sheetrock jambs on the interior. The siding was removed and reinstalled, not only so the window flanges could be accessed, but so an exterior "system" could be created (see below) that would keep the elements out of the home. The new windows were Wincore, Low E, 7700 series–A high-quality vinyl window. These homeowners were fortunate, as the existing windows had not leaked significant water enough to damage the insulation and framing around them. The drywall on the interior jambs was removed so the window perimeters could be insulated properly. The drywall jambs were replaced with wood extension jambs with 3 1/2″ sills and surrounded by 2 1/4″ colonial casings, and painted to match the existing trim in the home. Not only are the wood jambs and trim more practical, but far more attractive.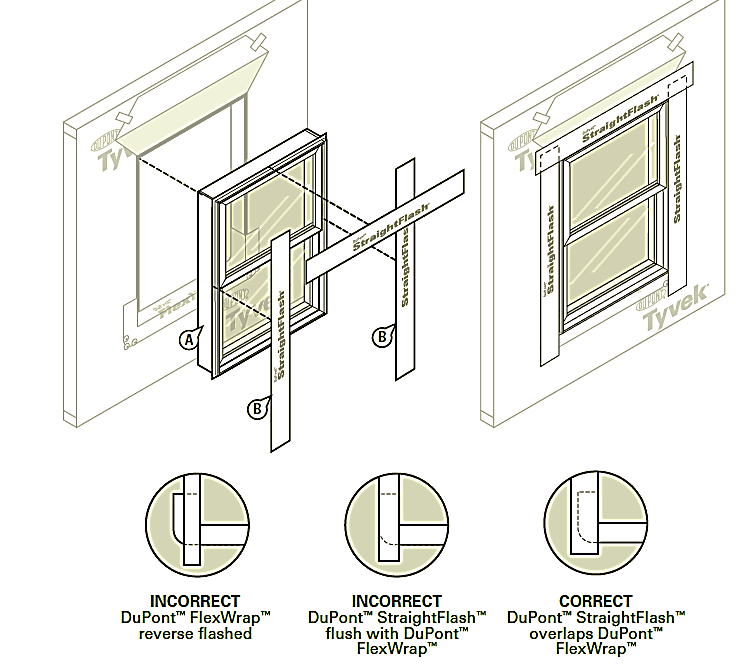 WINDOWS Continued
While most builders offer options that include higher quality windows—i.e. Andersen® or Pella® windows—the alternative is what is known as "builder grade." Builder grade windows are usually vinyl or aluminum frames with the barest minimum of construction required by law. With proper installation, even builder-grade windows will perform semi-adequately. There are many very high-quality windows with both vinyl and aluminum construction, however, their lesser-quality counterparts are far less expensive and most used unless otherwise specified. They often leak both air and water to some degree. Add a poor window installation to that, and you are left with a window that's likely to cause problems for years. The worst of these stem from the infiltration of moisture to areas of your home that are not meant to get wet. The resulting mold, fungus, insulation damage, and frame rot may not become apparent until major damage is already done. Air leakage can cost a great deal of money over time in heating and cooling. When the air leakage is significant enough, it can cause the entire HVAC system to become unbalanced and shorten its life.
EXTERIOR SYSTEM
What most people don't realize is that the purpose of every single step on the exterior of a home is to keep moisture and unwanted air out. A home exterior; the sheathing, house wrap, roofing, siding, exterior trim, windows, and doors are all pieces of (what should be) a system—a system designed to keep the elements out. When the exterior is not addressed as a system, disaster awaits. It can "look" good—even look great, but looks are the easiest part. In construction, it's always what you can't see that is most critical.